THE COLLAPSE OF IDI AMIN DAADA
On 11th April 1979, the murderous regime of fascist Idi Amin collapsed with the fall of Kampala and the hands of the combined forces of Uganda National Liberation Army(A coalition of the different fighting groups of Ugandans engaged in the struggle against Amin, under t5he leadership of the Uganda National Liberation Front) and the Tanzania People's Defense forces. How did this come about?
The rapid change in the situation was caused by developments within the dictator's camp and all that went with it. The exploitation and oppression of the people had reached it's limits. Contradictions within the military clique that wielded power had intensified. An attempted coup d'etat led by Amin's vice-president Mustafa Adrisi had aborted. The dictator was clearly just managing to stay on.
In these circuimstances the regime needed the pretext of an external threat, not only to enable it to eliminate it's opponents, but also to divert attention from the sharpening contradictions within it's own camp. Therefore some time in early October 1978, Amin declared over his radio that Tanzania had attacked Uganda with the assistance of 'Cuban troops'. Using the pretext, Amin bombed Kyaka village and the nearby Bukoba townships in the environs of Lake Victoria. Then his mercenary troops actually invaded Tanzania and occupied the entire Kagera salient of 700 miles, which Amin annexed and included as part of Uganda's territory on behalf of the Ugandan state.
Amin's mercenary army then continued to kill, pillage, loot, rape and damage everything in sight of the salient. All food stores were denuded. Twelve thousand improved cattle in a government ranch were driven off into Uganda. A sugar mill and a saw mill were destroyed. Private property belonging to individuals was also looted, including iron roofing materials, doors and window frames. Schools, dispensaries and
churches were destroyed and the bridge over the Kagere river was blown up. Many ordinary people were killed and a number kidnappede as prisoners of war' and taken into Uganda.
Tanzania took all these provocations coolly. But no self-respecting people could stomach such blatant aggression on their territory. Tanzania's mobilization of the entire population to beat back the aggressors was therefore greeted by all Ugandans with jubilation, as it presented an opportunity to them to help in throwing off the yoke of dictatorship.
Many Ugandan organizations that had multiplied over the years, achieving little success, now became active again. The dictator realized that he had made a very bad mistake attacking Tanzania. On 9th December, just over a month after the invasion, President Nyerere announced that the Tanzania Peoples Defense Forces had succeeded in crossing the river and had driven the enemy out of Tanzania.
Amin now announced that he was preparing for 'phase two' of the invasion, and on 20th January he attacked Tanzania again. This attack was also repulsed. Numerous air attacks failed, as many of his planes were shot down over Mwanza and Bukoba towns.When Tanzanian troops advanced into Uganda, they were met by jubilant crowds. As Amin threatened to punish the villagers who were welcoming the advancing Tanzanian and Ugandan fighters, a unity of purpose was cemented between the fighters and the people in order to consolidate the victories and weaken the dictatorship. For the Tanzanians, their aim was to chase the enemy in hot pursuit and punish him; for the Ugandans the aim was to fight side by side with the Tanzanians, consolidate the victories and liberate the country from the fascist dictatorship. All this augured well for the political forces of resistance....
To be Continued
Compiled by;
Don Dre.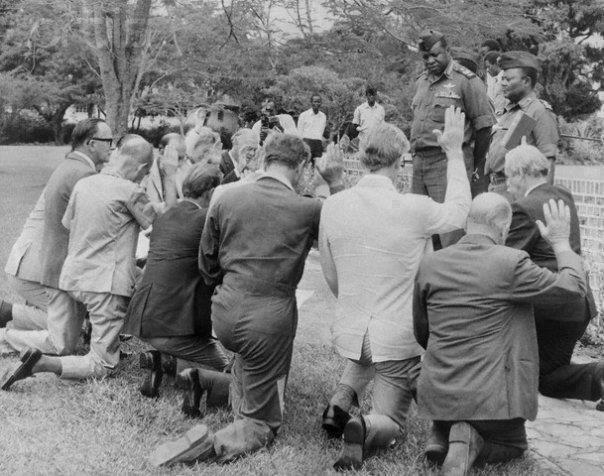 sol_drethedon




Posts

: 510


Reputation

: 34


Join date

: 2011-03-24



Blessed in heaven

alimawanda




Posts

: 22


Reputation

: 2


Join date

: 2012-08-01



Thanx Ali . . . . Good stuff.

Yesterday 11th April 2013 marked exactly 34 years since Field Marshal Idi Amin Daada was deposed on 11th April 1979.

Below are some facts leading to that overthrow. . . .

A one Juma Lukoni Ali aka Juma Butabika led operation Makulukuusi that entered Tanzania in an attempt to recapture escaping prisoners. Having found no resistance at the boarder, he hatched a ridiculous idea to annex Kagera from Tanzania and make it a part of Uganda. This resulted into his troops entering
700miles into Kagera and destroying the whole Kagera salient amidst heavy looting, plunder, rape and other attrocities. This was however
done without Amin's consent. It was later understood to be a ploy to discredit Amin's regime and brand him a continental tyrant.

Kikoosi Mahalum is the military group comprising Ugandan fighters that assembled in Tanzania preparing to attack Amin with the help of
Tanzanian troops.This group was ironically backed by Evangelist Billy Graham and manned by among others Yoweri Kaguta Museveni, the
current president of the Republic of Uganda.

Major Rwehururu of Idi Amin's Army beat Tanzanian troops into temporary submission along the Mutukula area.

Idi Amin Daada had a mobile radio and a tracking device far better than the tracking systems we have in Uganda today. His tracking system
manned by Eng. Umar Said could track up to 560 phone calls per minute... Some say per second. Whatever the case, it was super efficient.

Sheikh Idris Mayanja Njuki was Idi Amin's Personal assisstant.

Amin managed to stay in Uganda up to 5 o'clock in the evening of 11th April 1979. It is reported that he chopped his Mercedes Benz into an open roof and headed out of Uganda through Bugerere with an Automatic revolver and an Israeli made Uzi gun.... He was bare-chested at the time and looking every bit a warrior.

It is also on the same day that President Bokasa was ousted. That day saw 3 African presidents get ousted.






sol_drethedon




Posts

: 510


Reputation

: 34


Join date

: 2011-03-24




---
Permissions in this forum:
You
cannot
reply to topics in this forum